Touring the Martin Guitar Factory in Nazareth PA USA - Fall 2009
By Rob Stewart - JustMastering.com - Fall 2009
Martin is by far my favourite brand of acoustic guitars. They are made to extremely high standards, and they deliver a remarkably consistent product. They place a lot of focus on environmental sustainability, and they willingly open their doors to their public for guided walking tours of their factory.
In the fall of 2009, my wife and I decided to drive down to see how my favourite guitar brand can make such beautiful sounding instruments so consistently well. I'm really glad that we did. Martin offers tours daily from Monday to Friday, every hour or so. More information can be found at the C. F. Martin & Co., Inc. Acoustic Guitars website. We took a lot of pictures that day but in fairness to the people working in the factory, I'm only posting pictures in this blog that do not have Martin & Co staff in them.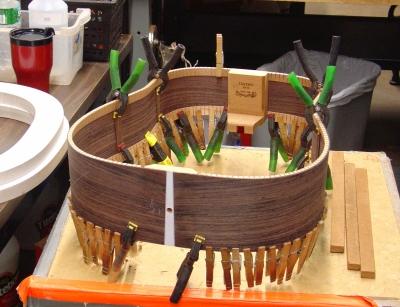 This is the outer rim of a D-28 body being made.
There's a museum there as well that has many historic models of Martin Guitars, including the 1,000,000th Martin guitar made (definitely something to see!). As of the time of this writing, the admission's free - for the tour and the museum. There's also a great gift shop on site, and a "pickin' parlor" where you can try out some of their top models in a nice sounding, quiet room!
If you own a Martin, or are a Martin Guitar fan, it's well worth the drive to Nazareth Pennsylvania USA to tour the factory and watch how these incredible guitars are made. You'll be glad you did.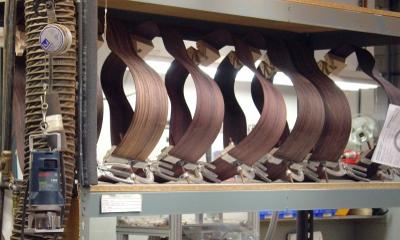 More solid East Indian Rosewood sides.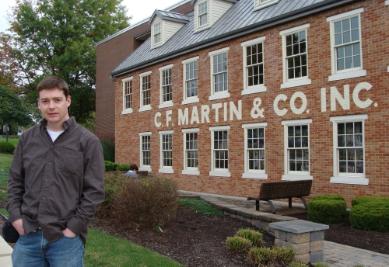 You'll see from these pictures that Martin employs a combination of old-fashioned techniques (some very simple but time tested and found to be the best way to do the job), as well as relatively modern technology such as robotic buffing machines which help ensure a consistent and uniform finish on every guitar.
As you might appreciate, there's a lot of detail work to making a fine acoustic guitar. Everything from the type of woods used, to the thickness of the body panels and even the bracing can all impact tone quality. The guides on the tour take you through the entire process of building a guitar from the rough lumber coming in, to the final testing of the product before it is shipped off to retailers. What's really neat about this tour is that you're touring the factory while it's operating, watching the staff at every stage of the process. The staff have (apparently) become quite used to long lines of tourists walking through with cameras in hand. They were all very nice to us and seemed pretty happy to say "Hello".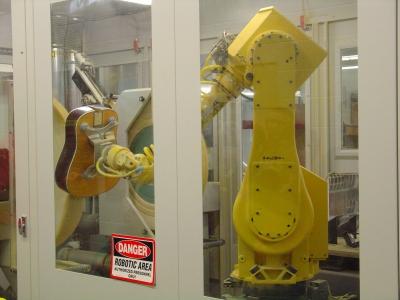 Martin achieves consistency using a variety of old and new technologies.