JustMastering.com is run by Rob Stewart, and started operations in January 2012 in Ontario, Canada. Rob believes that a great master starts with a great mix. His mission is to help his clients improve the quality of their mixes before preparing their music for distribution and broadcast. With a growing list of very happy clients, Rob has a track record of providing quality service and intense customer focus.
Meet Rob!
Rob Stewart has been working with music and audio from a very young age. He has extensive experience in the radio advertising (production) field, having produced thousands of radio spots for companies all over North America.
Rob is a musician who enjoys playing variety of instruments, and has several years of experience as a location recording engineer. Location recording has provided Rob with a wealth of experience in dealing with the unexpected, and he enjoys a challenge.
Rob graduated from the Music Industry Arts - Recording Engineering program at Fanshawe College in 1995. Rob decided to start mastering professionally because he has always enjoyed the analytical side of recording engineering.
Rob's analytical approach to music complements the creative mindset that producers and home musicians have. Rob is very service-oriented, and believes that great communication is essential to great customer service. Rob will help turn your music vision into a reality, by bringing out the very best in your mix!
If you have questions for Rob, or are looking for song mastering services, please use the contact us form, and he will get back to you as soon as possible. Rob is also an active member on the GearSlutz audio forum under the name "JustMastering".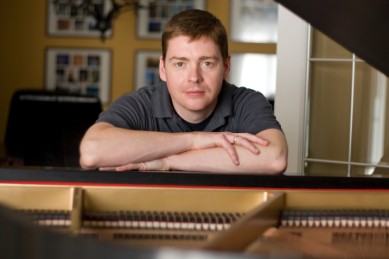 "Rob is one of the rare guys in the industry that is very generous with his time. He carefully listens to mixes and gives honest, detailed feedback on how to improve the mix, resulting in a much more pro sounding track upon completion. The mix analysis alone is worth the price of admission...a great sounding master for release, is just an added bonus!!"
Steve Turpin (Black Hole Gravity)