By Rob Stewart - JustMastering.com - June 2012
I went back to the Martin Guitar Factory to check out their gift shop (they are always coming out with new items and it's worth a look!), and to check out the guitars in the "Pickin' Parlour". What a great idea! I was able to play a few models that are not easy to find in stores where I come from. I believe I played at least five models, one of which was the brand new 2012 D-18. As one would expect of any D-18, it's a very nice guitar, and very solidly built (I noticed the side bracing almost immediately). I played an Eric Clapton model (000-28 I believe with vintage toner finish), and a few others as well.
I always find trying out different guitar models a lot of fun - particularly acoustics. It never ceases to amaze me how different they all can sound from one another. There's a lot that goes into making a great guitar, and it pays to put the time into finding the one that is right for you. So if you're in the Pennsylvania area, I'd highly recommend checking out the Martin Guitar Factory and the Pickin' Parlour.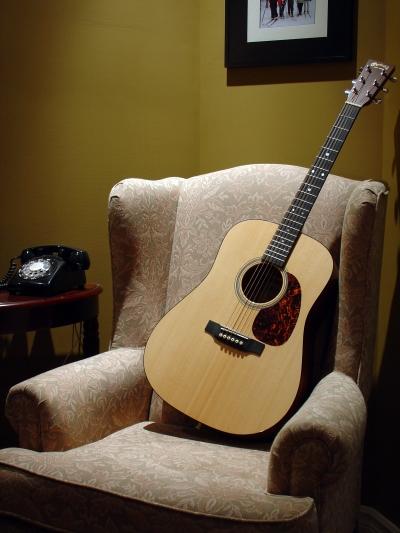 Also - just down the street at the original Martin factory is a neat little shop, now called "The Guitar Maker's Connection". Whether you're a player, or even just enjoy woodworking, this shop is a real treat to see, and it's kind of neat to think that for many years this is where early Martins were made! It's full from floor to ceiling with new and used/reclaimed guitar parts and accessories. You can get a good deal there, but it's also just neat to look at all the stuff they have (tops with the braces glued on them, backs and sides, tools, tuning machines etc). The staff are extremely friendly too.
More information at C. F. Martin & Co.