QuikQuak's "MashTactic" audio plugin - an excellent tool to help you visualize your mix!
By Rob Stewart - JustMastering.com - June 5, 2012

I am always on the lookout for new and innovative audio tools. They are getting harder to find lately, but just recently I happened across a plugin that will no doubt serve to be a great educational tool for many, and may even help to make improvements to finished mixes.
The product is called "MashTactic" by QuikQuak. They describe this tool as a "Mushup and sharp multi-filter tool" that was originally created for artists to create mashups of pre-recorded mixes. You can download a working demo of the tool from the MashTactic product page. MashTactic is available in VST/VST64 for windows and in VST/AU for Mac.
MashTactic lets you define up to 8 stereo zones within your mix, isolate them, and then adjust things like gain, panning and even transients. I wrote all that in one sentence, but think about what that means..... you can completely isolate portions of a stereo mix! There's a great video on the QuikQuak website that shows this remarkable tool in action.
That alone is quite amazing and it makes this tool well worth a look, but as a mastering engineer, I really like this tool for its visualization capabilities. MashTactic's visual display is very much like a scrolling spectrogram, except that it stays stationary, and "refreshes" the view. So it's sort of like a watching your mix as a video. It also lets you see your mix in stereo! Scrolling spectrograms can do that too, but only by showing you separate spectrograms for each channel.
As an audio mastering engineer, I can easily see two main uses for this tool. First, I consider MashTactic to be an amazing analysis tool that will help me to diagnose issues with mixes, and also illustrate what the issues are to the mix engineer (I can literally show them a picture - this tool actually lets you visualize a stereo mix!). MashTactic can help you diagnose your mix if you're having trouble getting the sound you are looking for, by showing you your mix from a different view point. Maybe your mix is too centre weighted, or maybe it has too much ambience? This tool will help show you what and where the issues are.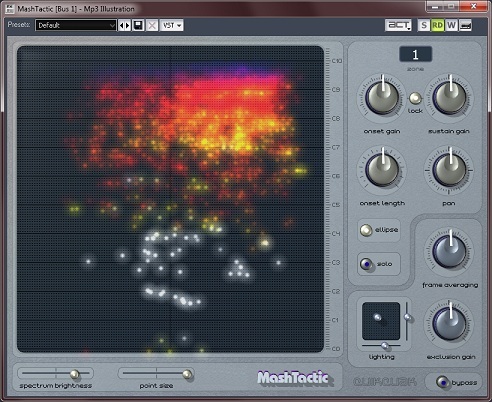 Second, I would use this for audio forensics work. Because of the extremely steep filtering and powerful visual readout, MashTactic would make it easier to extract speech from noisy recordings.


MashTactic is an excellent tool, it's well worth the look!